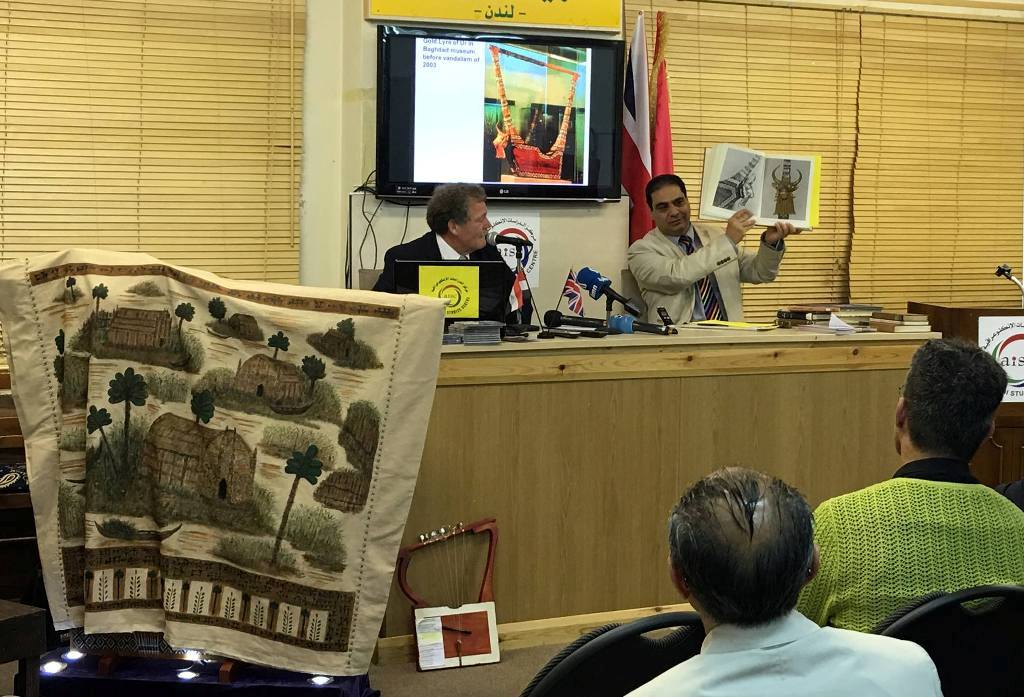 "GOLD LYRE OF UR – ECHOES OF HISTORY, SOUNDS OF MUSIC" – 24 SEPTEMBER 2016 (AISC OFFICE)
On 24 September 2016, the office of the Anglo-Iraqi Studies Centre (AISC) also hosted a cultural event featuring the music and traditions of Ur in ancient times.
The title of this event was: "Gold Lyre of Ur: Echoes of History – Sounds of Music", and was a cultural event featuring a talk and performance by Andy Lowings from the "Gold Lyre of Ur Project". As he put it, it was "a journey through the music, history and language of Mesopotamia". This event was televised by several Iraqi media/TV channels.
Andy brought the Lyre that he has lovingly re-created, which he has modelled on the "Lyre of Ur" found by Sir Leonard Woolley during his excavations of ancient Ur in the late 1920s.
Nadeem introduced Andy to the audience and he presented more than 10 English language books about the Ur excavations and the Lyre of Ur.
As well as giving us an evening of music from ancient Mesopotamian times, Andy talked to the audience about the "Gold Lyre of Ur Project" which he set up with others in 2003 and which aims to bring to life the music, culture and history of ancient Mesopotamia.