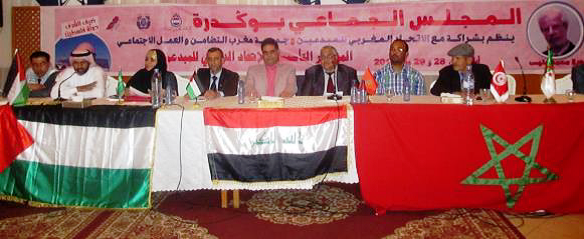 "THE ROLE OF CULTURE IN DEFEATING THE CHALLENGES OF TERRORISM" – 29 MAY 2016 (OUTREACH EVENT, MOROCCO)
Nadeem Al-Abdalla, AISC manager, travelled to Morocco for this cultural conference, held in the Atlantic coast city of Safi between 26-29 May 2016.
This conference was organised by the Union of Moroccan Creators UMC), the Moroccan Solidarity Association (MSA) the local authority of Bougidra, a local town near Safi. The theme of this conference was "to build modern, democratic societies which stands against violence, extremism and terrorism".
Palestine was the guest of honour at this conference. The icon of this
conference was the Moroccan poet Mohammed Benisse, who was at the conference where his life and works were celebrated. Nadeem gave a speech at the conference's welcoming ceremony on 26 May 2016.
On the morning of 27 May 2016, the delegates toured the city of Safi and were then invited to lunch at the headquarters of Bougidra Local Authority.
In the afternoon, the conference officially opened as part of the Bougidra Spring Festival which included traditional Moroccan horse warrior displays attended by a large audience. The official opening included speeches from the organisers, the icon of the conference poet Mohammed Benisse, the representative of Palestine as the guest of honour, and a speech by Nadeem Al-Abdalla and speeches from other delegates.