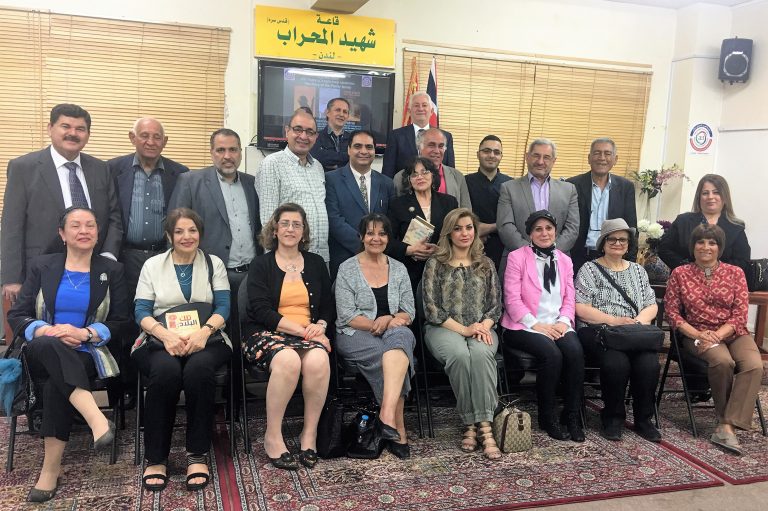 "100 YEARS OF ANGLO-IRAQI RELATIONS, THE STORY OF THE PORTER FAMILY" – 23 JUNE 2018 (AISC OFFICE)
On 23 June, a cultural event was held at the Anglo-Iraqi Studies Centre (AISC). This event featured a knowledge presentation by Dr Emily Porter, titled "100 Years of Anglo-Iraqi Relations: The Story of the Porter Family."
The event was opened by Nadeem Al-Abdalla, AISC manager, who presented Emily Porter to the audience. Emily is an Anglo-Iraqi expert, art historian and researcher on religion and art.
She is the daughter of an English father, Cyril Porter, and an Iraqi mother, Lolo Zanbaqa. Emily was born in Iraq, where she studied art in Baghdad. She then completed her higher educational studies in Russia, America and the UK. She worked for the Iraqi Museum between 1965 and 1977. Emily is currently involved in many organisational projects centred around the cultural revival of Iraq and the Middle East, and protecting Iraq's archaeological antiquities. She continues to visit Iraq on a regular basis.
Emily has published many articles and books, including "Babylonian Princess" about the life and times of Maria Theresa Asmar, and "Letters between Carlisle, Baghdad and Bangalore", in addition to many books and novels written in Arabic.