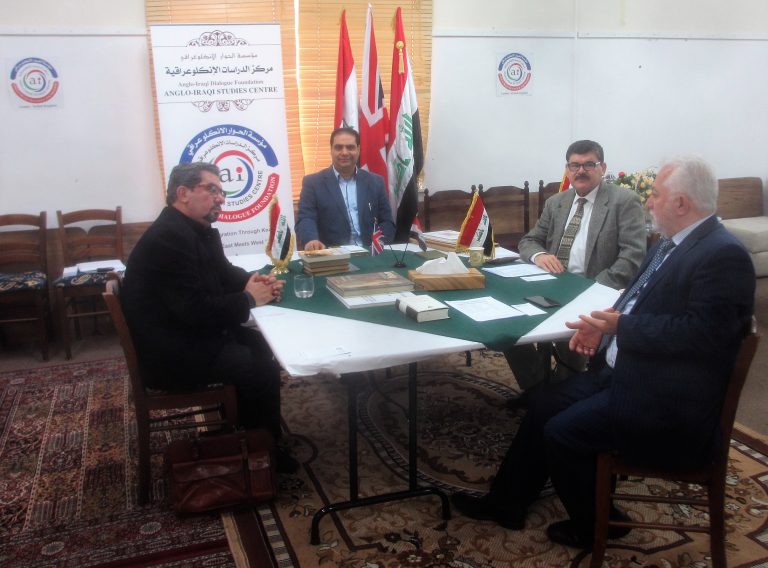 "ROUNDTABLE SEMINAR ON PRIORITY TRANSLATIONS OF ENGLISH LANGUAGE PUBLICATIONS INTO ARABIC" – 15 APRIL 2018 (AISC OFFICE)
On 15 April 2018, a roundtable research seminar into the translation of publications from English to Arabic was held in AISC's offices. The seminar was held partially to examine and respond to a request from an Iraq-based research centre for AISC to recommend 10 English language books to be translated into Arabic as part of their translation project. In their request, they asked us in our capacity as a centre with expert knowledge on English language publications about Iraq, to recommend 10 books from different genres which have not previously been translated to Arabic, and which would be of particular importance to Iraqi and Arab readers.

The roundtable seminar included the literary and arts reviewer Adnan Hussein, writer and academic Sadeq Al-Taee, both of whom are experts in publications about Iraq, in addition to Ihsan M Al-Hakim, director of the Anglo-Iraqi Dialogue Foundation, and Nadeem Al-Abdalla, AISC manager.
The discussions included information about digitised libraries and the main Arabic library databases. A list of books has been suggested by the roundtable participants for translation into Arabic.